Hi all
Following Floors Castle BE100 double clear we headed down to Belsay on Saturday afternoon to stable overnight and run in the Novice on Sunday.
Trudy (the truck) is feeling back to normal and travelled like a dream, arriving at the horse trials around 3pm. Walked the xc and it looked decent. The organisers have built a lovely course making full use of the hilly ground. I noticed there were also some wider ditches and ramps which I am guessing is in readiness for an intermediate in the future perhaps?
Anyway, went to the stabling and it was really nice, J thankfully knows how to duck going through doorways as they were a bit low but once in his stable he was very settled.
watched Top Gun - what a great film - that night and headed to bed. Reviewed the course in my head the next day using the photos and did all my to-do list before loading up to head the 1 mile to the showfield.
Went over to Dr, ended up on a 41, which i know we could do better so not too disappointed. Struck off on the wrong leg in canter which worried him so no medium canter strides shown, halted but went to step back before the rein back and other bits of tension. I actually warmed him up for longer (40mins rather than 30) and felt he was in front of my leg much more than usual - my instructor has told me I need to get after him more and I thought it worked this time. Just a shame about the blips but not bad.
warm up looking pretty (biased I know!)
SJ an hour later, we were 4th to go in the ring and although it had been rolled from the day before, it was sticky and holding. The warm up was perfect so it didn't give the horse the feeling of what it would be like in the ring. Had the first fence
then I rode too forward. Ended up with two more down as mucked up the related line and the double. It was a decent track and I should have jumped him at home in the week but didn't - bad jockey!
Onto XC, again we were 4th to go, felt like it would be a test for us as it was our second Novice track, and had already decided to take the alternative at fence 17 (very large corner!) which would be time wasting but as I wasn't running for the time, I wasn't bothered. I did wear a watch for interest although only looked at it once!
Anyway, set off and up the long uphill stretch over the first 3 fences, log fence with hedge behind, roll top, another log fence with hedge, then 180 degree turn back over the hedge - tiger trap with hedge behind and down the hill over another similar log with hedge fence and 4 strides to a ski jump with ditch - the logs didn't quite cover the ditch and J had a look just on take off. He was really trying but he did back off a few fences. Still when asked to jump he jumped so can't have asked for more. over fence 7 which was up a man-made ramp and over a pallisade, and a reasonable gallop to a double of offset caravans, took the direct line and he pinged them: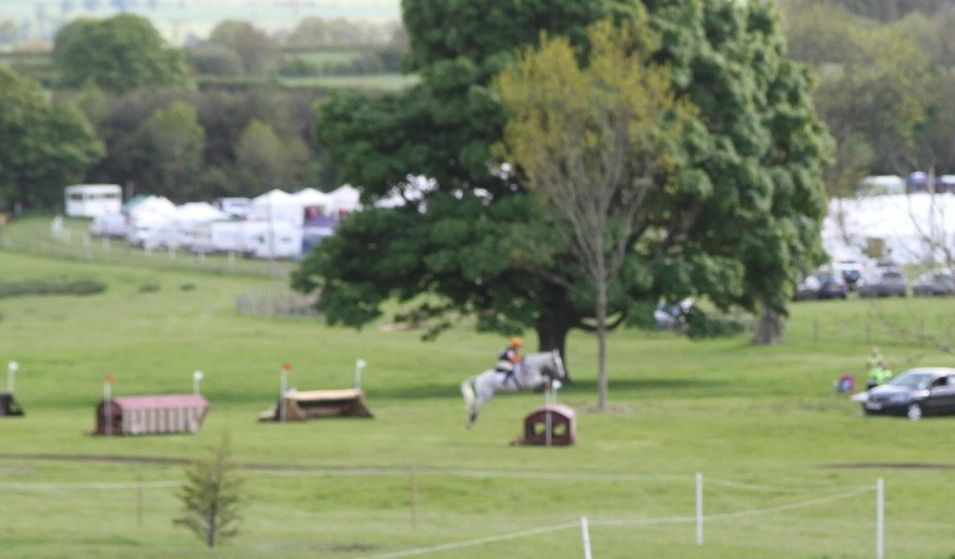 sorry its blurry
Off to fence 9 and 10, uphill skinny brush to a corner and up the hill to fence 11a/b a brush to whiskey barrels (1 stride)
and down past the castle over a pretend castle fence and off along the bottom then up round the castle, up the hill over a steeplechase fence then onto a trakehner (which was fairly meaty if you ask me), then it all went wrong! headed down the tree line to fence 15 a skinny log pile which he flew, then a right turn over a log pile/drop fence - which I got a good stride to but didn't keep a hold of the left rein and he drifted and jumped the wrong side of the flag (helmet cam has me doing a very loud 'ooooh' as we go the wrong side!). the problem was the drop fence was over a wall into a field so getting back meant having to do a massive loop back through the course and up the hill to the track again. Re-presented and jumped for fun, headed over to the roll top, alternative to the corner and off to the water jump. felt him tire a bit so decided to jump quietly home and popped the water in and out fences and went straight on to the ditch , then log/hedge fence before the last two home. SACK THE JOCKEY! Instead of veering slightly left over the ditch then right back to the hedge, I went straight and jumped the wrong side of the flags again!!!!
really annoyed with myself for stuffing it up twice. Poor horse jumped the wide ditch quite the thing so I decided to call it a day at this point. He was tired and had jumped everything so got off and walked him home.
Totally stuffed it for my horse, I've never gone wrong on the xc with navigation before so i've learnt my lesson to read the flags in future. Just a shame my superstar now has a big far R on his record
Going to do Hutton 100, Hopetoun 100 and Poss Auchinleck 100 before trying the Novice at Cumwhinton and Richmond I think.
Totally sack the jockey, happy for a few slaps in the face for my rubbish riding, but send polo's to the grey pony for putting up with me
Interestingly, he was used a week ago for a research study into gastric ulcers in competition horses. As someone who knows a bit about this subject I would say he doesn't show any clinical signs and is in a management system that gives consideration to ulcers (never without forage etc etc). Yet he has ulcers! Both in his non-gladular and glandular region and is now on GG treatment with rescoping in a months time. I did always suspect he might although no clinical symptoms to show if he does or not so I'm glad I put him forwards for the study!